Archives For Westboro Baptist Church
Another calm and peaceful message of love and acceptance from Westboro…
More information available on Huffington Post.
Its time for a quick word from our sponsors…
Maybe I've had one too many late nights.
But this little blog series made me wonder, and for a second I pondered about the famous sign waving, board designing, american hating church from Westboro…
Is there anything we can learn about Evangelism… or how not to do Evangelism from Westboro Baptist Church?
Well. Welcome to 2013.
We were tempted to open 2013 with a deep and meaningful look at what the new year can hold for us, make some predictions about what we'd see from the church sofa, or even set ourselves some targets for the year ahead, but figured that was fairly predictable.
We might still do that some other day.
But in the mean time, here's a Star Trek fan sharing Gods opinion about The Jedi.
Read Super Heroes vs. the Westboro Baptist Church, to find out the back story to all this Jedi bashing fun.
"You don't get to define the love of God"
"Nor do you though"
Worth watching if only for the Minister joining in the "fun".
Welcome to this weeks Weekly Roundup:
… and they use Twitter on iPhone to announce it.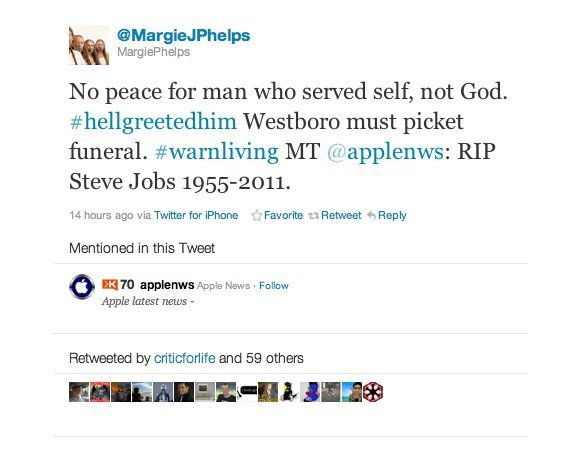 I'm just shocked they didn't see the irony in this…
Or was it a deliberate attempt at getting publicity?
Did anyone comment about Facebook?